Software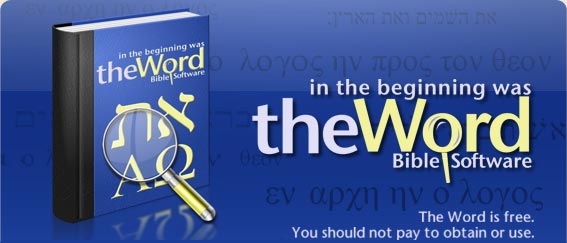 Description:
There are several different bible programs available for free and commercially, but few compare to the rich features found in the theWord bible software. Most books, bibles, commentaries, and dictionaries that come with bible software today are in the public domain and therefore are available for free if they are in the right format. TheWord bible software has hundred of these books, bibles, commentaries, and dictionaries that people have made to add into the software and they give them away free of charge. In addition to its extensive library, theWord has some of the most powerful search features available today. Its ability to perform complex original bible language searches opens up opportunities for people who previously had to spend hundreds of dollars to own such a tool. Any description cannot do this program justice without giving it a try.

TheWord is very intuitive and once you have watched these training videos produced by
Godly Christian Ministries you should have no problem utilizing many of its
core and advanced features.

TheWord bible software modules are add on Bibles, Commentaries, Dictionaries, Books, and Maps. Below you will find some suggested modules if you are into biblical greek and hebrew studies. These modules make theWord an excellent resource.
Original Languages Modules
Bibles
Tischendorf Greek NT 1872, 8th edition (accents, strongs, parsing)
Link
Apostolic Bible Polyglot - English only text of Interlinear
Link
Apostolic Bible Polyglot Greek-English Interlinear
Link
Byzantine/Majority Text (2000) (strongs, parsing)
Link
Textus Receptus (1550/1894) Greek NT (strongs, parsing)
Link
Westcott-Hort with NA27/UBS4 variants (1881) Greek NT (strongs, parsing)
Link
Greek LXX and Byzantine Majority (strongs, parsing)
Link
Septuagint Old Testament with accents
Link
* Greek Bible text of the Novum Testamentum Graece, 27th ed (Nestle Aland)
Link
* New American Standard Bible Bundle
Link
Commentaries
Word Studies in the New Testament (Vincent)
Link
Word Pictures in the New Testament (Robertson)
Link
Adam Clarke's 1810/1825 commentary and critical notes on the Bible
Link
Barnes New Testament notes
Link
Student's Guide to New Testament Textual Variants, A
Link
Dictionaries
Synonyms of the New Testament (Trench)
Link
King James Dictionary
Link
Thayer's Greek Definitions
Link
Brown-Driver-Briggs' Hebrew Definitions
Link
bdb-thayer (Brown-Driver-Briggs' Hebrew / Thayer's Greek Definitions)
Link
Vine's Expository Dictionary of New Testament Words
Link
Vine's Complete Old Testament Expository Dictionary
Link
Liddell-Scott-Jones Lexicon of Classical Greek
Link
Ancient Hebrew Lexicon of the Bible
Link
Grk2Heb (Greek to Hebrew Words)
Link
Heb2Grk (Hebrew to Greek Words)
Link
* Theological Dictionary of the New Testament, Abridged in One Volume
Link
* New American Standard Exchaustive Concordance
Link
International Standard Bible Encyclopedia
Link
Noah Webster's 1828 Dictionary of American English
Link
Books
Dead Sea Scrolls
Link
Moulton Grammar of NT Greek
Link
Grammar of the Greek NT, Robertson
Link
Syntax of the Moods and Tenses in the New Testament Greek
Link
* These modules cost money